Double Delight: Pennywell Farm Secures Back-to-Back Win as Devon's Best Family Attraction!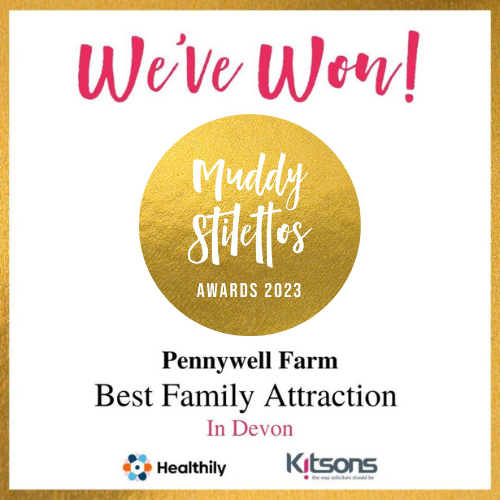 Pennywell Farm is thrilled to share the news of its consecutive victory as Devon's Best Family Attraction for the second year in a row at the prestigious Muddy Stiletto Awards. This remarkable achievement is a testament to the exceptional experiences the attraction delivers for families and visitors of all ages.
For those who don't know, Muddy Stilettos is the biggest lifestyle website in the UK, outside of London. Started by national journalist Hero Brown it now covers 28 counties, including Devon.
The Muddy Stilettos Awards were launched by Hero nine years ago and this year saw over 77,000 businesses nominated and 800,000 votes cast across the Muddy counties. Businesses don't pay to enter, the nominations come from readers, who vote for their favourites in 27 categories. From there, a shortlist of up to five finalists in every category is drawn up for each county. Voting begins again to establish the winners.
The Muddy Stiletto Awards, known for recognizing the finest establishments across various categories, are highly regarded in the local community and beyond.
Winning this award two years consecutively is an exceptional accomplishment, showcasing Pennywell Farm's consistent dedication to delivering outstanding family experiences and creating unforgettable memories for visitors of all ages.
Located in the picturesque Devon countryside, Pennywell Farm has long been recognized as a top-tier family destination. The farm's unique blend of education, entertainment, and hands-on experiences allows visitors to immerse themselves in the magical world of farm life. From cuddling adorable animals to participating in interactive shows and experiencing the thrill of tractor rides, there is an abundance of activities for visitors of all ages to enjoy.
The win at the Muddy Stiletto Awards highlights Pennywell Farm's commitment to creating a warm and welcoming environment where families can come together and make lifelong memories.
Founder Chris Murray, expressed his gratitude for the recognition:
"We would like to give a huge thanks to all those who voted! It's an awesome and quite humbling feeling, to think that so many people wanted to show their support and love for Pennywell. We are absolutely thrilled to be voted the Best Family Attraction in Devon for the second year running – this award means the world to us! We are so proud to be a place where families can come together, have fun, and create cherished memories. All the animals will get an extra treat to celebrate, and we'll be raising a glass to our wonderful team who give it 110% every day to ensure we deliver an outstanding experience to each and every visitor."

All the winners will go forward to the National Muddy Awards which will take place this autumn. So, keep an eye out, and fingers crossed, for Pennywell Farm, which could be crowned the nation's 'Best Family Attraction'.
Pennywell is open 7 days a week and tickets can be booked online at www.pennywellfarm.co.uk.
Book Tickets now to experience this award-winning fun first-hand!
This story appeared on August 10, 2023