Nativity Plays and Visits to Father Christmas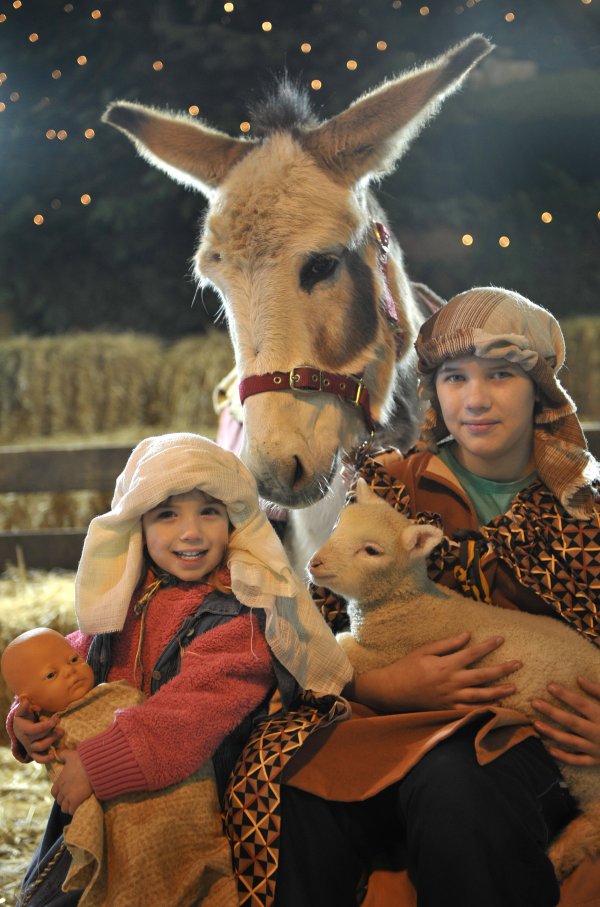 Christmas 2018 coming soon
Rekindle the true spirit of the season and put the arrival of baby Jesus at the heart of Christmas. An authentic manger scene in a cosy barn with all the animals, followed by a visit to Father Christmas and delicious refreshments. The perfect start to your Christmas celebrations.
Picture the scene - a magical manger setting with all the Pennywell animals, the barn twinkling with hundreds of tiny lights hidden within the beautiful Christmas trees and carols ringing out across the farm. Hear the wonderful story of the Nativity and see it brought to life.
We take care of the whole direction and every child is given the opportunity to dress up and be one of the star performers if they would like to. Costumes are provided so there really is a host of heavenly angels and many shepherds watching their sheep. Adults and children are welcome to take part in the performance or take a seat on the cosy straw bales and look on as the greatest story ever told comes to life.
After the performance each child will meet Father Christmas in his magical grotto to receive their very special Christmas gift.
A warm festive welcome then awaits you in Henny Penny's Cafe where the smell of mulled wine and delicious warm mince pies fills the air. Children are treated to a homemade Christmas biscuit and soft drink, while adults enjoy a glass of mulled wine or a tea/coffee and a warm mince pie.
Breakfast with Santa is included FREE on selected dates.
You need to allow at least two hours at Pennywell, arriving no more than fifteen minutes before the time of your performance. Christmas at Pennywell is a truly unique experience so don't forget your camera!
Booking is essential!
Tickets on sale soon.