Experience The Magic At Pennywell This Christmas!
The Perfect Christmas Experience
This festive season, enjoy the perfect Christmas experience for all the family. You will need to allow between 2 - 2.5 hours for the experience.
At this time of year, the Farm is transformed into a magical winter wonderland with twinkling lights, hundreds of Christmas trees and plenty of Christmas sparkle. A truly magical Christmas experience awaits!

Following on from the fantastic success of the last couple of years, this year's event will take a similar format but promises to be even more magical!
All Included in Your Pennywell Christmas Experience Booking:
🎟️ North Pole Check-In: Arrive at the magical North Pole where you will be greeted by our friendly Elves and checked-in! Collect your Christmas passport and get the stamps as you journey through our Christmas experience.
🌟 Live Nativity Scene: It's then time to journey back 2000 years, as the Christmas Nativity begins. Travel to Bethlehem to find an inn for the night. After finding a vacancy in our cosy main barn, experience a real manger with all the Pennywell animals looking on. The scene is set and the story of the first Christmas comes to life.
🥧 Festive Treats: After the Nativity, head to Noah's Barn for Christmas cheer with delicious mince pies and warming drinks for the adults and homemade Christmas biscuits and cold drinks for the children.
🍭 Elves Sweetshop: Enjoy a visit to the Elves Sweetshop with a bag of yummy sweets for every child.
🚜 Tractor Ride: Jump on the Tractor and trailer ride and see if you can spot the gingerbread men hiding along the way.
🐷 Christmas Animal Cuddles: Next, you'll experience Christmas close encounters with some of our amazing animals. Tickle, touch and stroke our Pennywell Miniature piglets and other furry friends.
🎁 Visit Father Christmas: Save the best till last! Enter our sparkly enchanted forest where Father Christmas will be waiting in his grotto with a special gift for every child. The perfect way to end your Christmas visit! Group visits to Father Christmas will be limited to a maximum of 2 families at a time.
You will need to allow between 2 - 2.5 hours for the experience. Please note the farm is only open for our Christmas experiences at this time of year.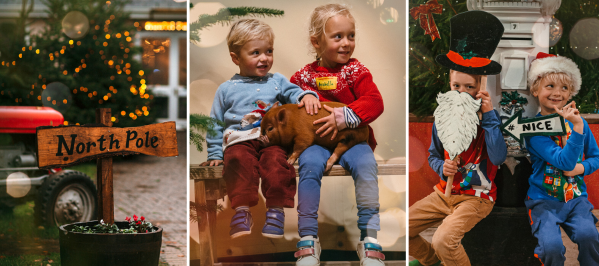 What Our Visitors Say
⭐⭐⭐⭐⭐

"Wow! What a fantastic Christmas experience we went to this evening. Well done Pennywell both my boys (2 & 7) absolutely loved every minute of it! The whole experience felt very magical & we would return and do it again in a heartbeat."

Scottie K

⭐⭐⭐⭐⭐

"It was a Wonder-filled visit! So beautiful at night, all the trees and lights and the Christmas story re-enacted in that setting was stunning & something to be remembered for a long time to come. Combined with delicious Christmas treats, cute, cuddly animals and a visit to Father Christmas…fabulous!! Our three girls 9, 7 & 6, said it was the best day ever!"

Sarah M

⭐⭐⭐⭐⭐

"We had the most magical Christmas experience and all of the family got involved. My 9 year old even joined in on the carols which brought my mum to tears. Thank you so much!"

christie M

⭐⭐⭐⭐⭐

"Just come home from our visit and have had the best day! Magical from start to finish! Would recommend to anyone who wants to start their Christmas season off with a really magical day. Our children (5 & 4) were in their element... as was I (there 31 year old mum haha)"

Claire L

⭐⭐⭐⭐⭐

"The visit to Santa was the highlight for my two boys and checking on them asleep in their beds last night, both with the toys that Santa had given them."

Sam M

⭐⭐⭐⭐⭐

"I've never felt so close to the Christmas story as I had in that barn. Even the Christmas carols seemed much more real and far less "routine"."

Holloway Family

⭐⭐⭐⭐⭐

"I visited pennywell 22 years ago with my little girl at Xmas for the nativity and both of us have never forgotten it! I then bought my granddaughter who is 2 to this wonderful experience to make more fabulous memories which I will cherish forever so thank you 😊"

Holloway Family

Food & Drink
During your time at Noah's Barn, our outlet will be open serving a range of hot and cold food and drinks, available to purchase on top of your complimentary refreshments. Click here to view our full Christmas Menu.

Your Booking
Tickets MUST be booked online in advance. When you book, you are selecting a time to visit. Each session starts promptly at your booked time.
You must arrive at the farm 15 minutes before your booked time. The experience is a set journey with precise timings and will finish after your visit to Father Christmas.
Dates and Prices
When you book tickets you will have the option to select a date and time to visit.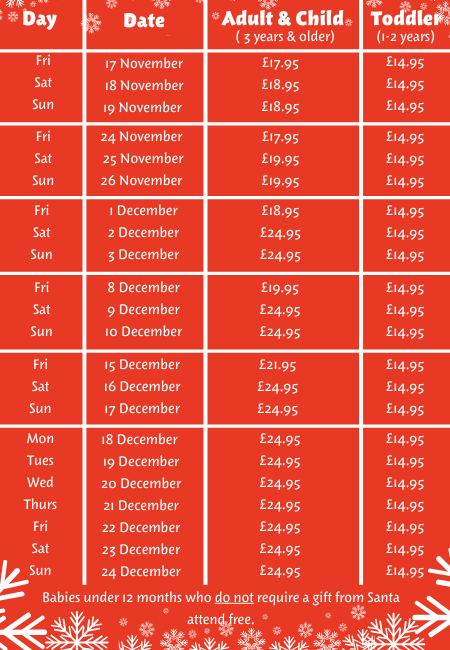 FAQ's
How Can I Buy Tickets?
All tickets must be purchased online and in advance at www.pennywellfarm.co.uk.
How Long Does The Experience Last?
You will need to allow between 2 - 2.5 hours for the experience. Please ensure you arrive 15 minutes before the start of your booked experience.
What Should I Wear?
Dress appropriately for the weather conditions. You will move outside as you journey through each experience. Each part of the experience will be in our spacious and open barns so wrap up warm as it can be chilly!
Refunds And Cancellations
Please book carefully as we are unable to offer cancellations, refunds or reschedule tickets. The Christmas Experience will go ahead in both rain and snow. You will only be offered a refund if we fail to run the Christmas Experience.