Enjoy Endless Fun For All The Family With Unlimited Visits All Season!
Sign Up For Instant Access To Our Super Early Bird Season Ticket Sale - Our Lowest Ever Prices!
Enjoy a full season of Farmyard fun with unlimited visits to Devon's Award-Winning Farm!
Why A Pennywell Season Ticket?
✔️ Visit whenever you want and stay for as long as you like – without having to worry about paying for each visit.
✔️ Unlimited visits mean you can relax with no pressure to squeeze everything into one visit.
✔️ It's the perfect way to make sure your family always has somewhere fun to go.
✔️ There's something for everyone, from cuddling the animals and going on a tractor ride, to bouncing around the play areas and enjoying a delicious coffee with a view.
✔️ Unbeatable value! Our Silver Group Saver pays for itself in just 2.6 visits. After that, every visit is FREE.
✔️ A full season of farmyard fun from less than £0.18 a day per person!
Don't Just Take Our Word...
We asked our season ticket holders what they love most:
✅ "I love the fact that with a season pass you don't have to try and do every activity in one visit. You can do different things each time you go, so every visit is still unique and exciting. The staff are all so friendly and personal. And it's just a lovely farm to visit!"
✅ "Our whole family loves Pennywell and we are lucky to live nearby. With a season ticket, we can pop over for a couple of hours and not feel like we have to do it all every time."
✅ "The flexibility of it, I never think "I have nothing to do" because I can go to Pennywell and have a great day."
✅ "My grandson's face when he sees the animals also he enjoys running around amongst the animals."
✅ "Value for money and not feeling pressured to see and do as much as possible in each visit, or stay all day."
✅ "All the extras you get with it are amazing! We love being able to bring a friend or to have a free hot drink, it just makes the day extra special."
✅ "Feels like a free day out. Sometimes we just come for a few hours. Even if we miss an activity it doesn't matter as we can do it next time. Very good value."
A Package To Suit Everyone
With our Platinum, Gold and Silver group savers, there's something for everyone.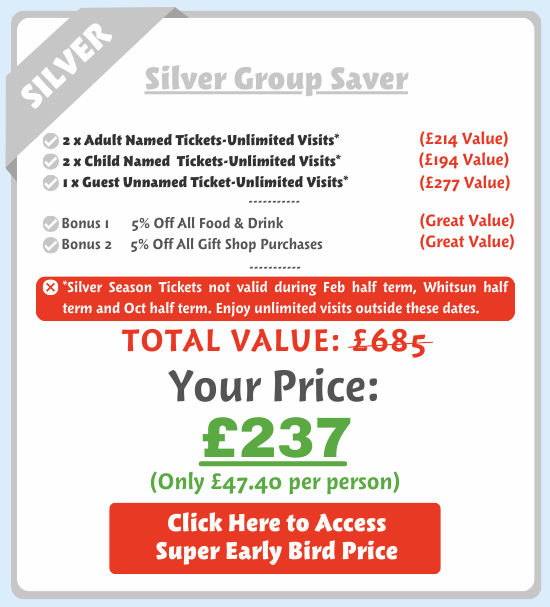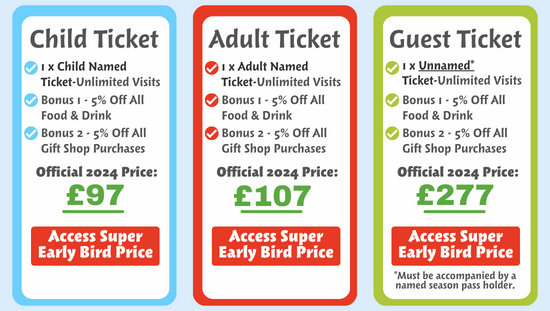 Unboxing The Gold Group Saver

Multi Award-Winning

Our Visitors Love Us!
(and we love them!)
⭐⭐⭐⭐⭐
"Lovely little gem! Been coming for the last 20 years with my children and now having grandchildren it's nice to be back with our season ticket."
Pennywell Visitor


⭐⭐⭐⭐⭐
"Pennywell has everything to offer, animals, facts, rides, bouncy castle, train, obstacle course and the friendliest staff! This is our second year as season pass holders because my children (3 & 7) loved it so much last year :)"
Zoe B - Pennywell Visitor
⭐⭐⭐⭐⭐
"Seriously Good! What is it about this place?! Consistently impressive regardless of the weather. The animals were varied and exciting, beautifully kept and clearly loving life. The new deer feeding activity and fabulous Miniature Pony and Donkey padlock were amongst the highlights of our 9-1 pm visit. Being able to walk with the ponies and touch them was just brilliant. Even my 9 month year old was clearly touched by the experience. Got some great photos and memories! Even under the current COVID-19 restrictions the amazing team and animals at Pennywell deliver a safe and unforgettable day. Genuine, warm, friendly, informative and fun, Pennywell is a firm family favourite. Well done Team Pennywell!"!
Jessie L - Pennywell Visitor
⭐⭐⭐⭐⭐
"All 3 generations loved it! Excellent day out! What a wonderful happy family-friendly place. A hidden treasure. Very clean and tidy, well organised, helpful friendly staff. Grandparents, parents and small children all loved it. We will be back regularly".
Jill M - Pennywell Visitor
⭐⭐⭐⭐⭐
"By far the best farm park I have been to! We loved being up close to the animals and being able to feed the animals was amazing for her. I have never met such friendly and helpful staff! Nothing was too much! Loved how you could walk through the horses grazing area. Plenty of picnic areas and lots of shade! The best most personal touch was the owner at the end of the session came out to say goodbye to everyone!! Wished them a safe trip back! Which in all the attractions I have been to I've never had that- so personal and friendly!! Will definitely return".
K Glover - Pennywell Visitor
⭐⭐⭐⭐⭐
"Well worth the money. I haven't been here since I was a young boy and I couldn't really remember the place. I returned today with my daughter and we had a great time meeting the animals. We honestly had a fantastic afternoon even with the restrictions, there's plenty of things to see and do!".
M John - Pennywell Visitor

2024 Opening Times
Pennywell will be open 7 days a week 9am-4pm from the 10th of February until the 3rd of November 2024.
Buy With Confidence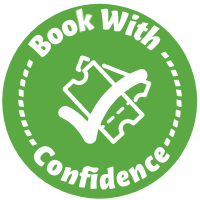 Fingers crossed it won't ever happen, but should we face the unfortunate situation where we are officially forced to close due to Covid-19, as before, we will extend your season ticket to reflect the time we have been forced to close.
Included With Your Platinum Group Saver

Included With Your Gold Group Saver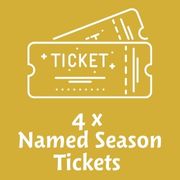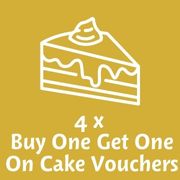 Included With Your Silver Group Saver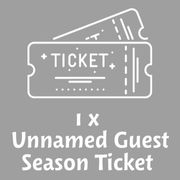 As a gift?
Once you have purchased your season ticket you will have the option to confirm the name or names that you would like printed on your tickets and where you would like them posted. You can either have it posted to yourself to give to your loved ones personally or get it posted directly to them.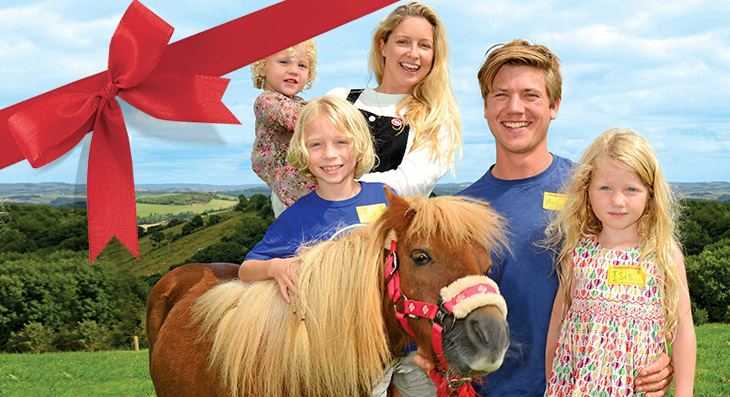 If you have any further questions with regards to Season Tickets as a gift then please give us a call on 01364 642023.
FAQ's
🏠 Do we have to live at the same address to buy a Group Saver? No! If you have a friend who also loves Pennywell and you want to go halves on a Group Saver, this is no problem at all! You don't need to live at the same address to share a Group Saver.
🎁I'm purchasing it as a gift, how does this work? No problem at all! Just purchase your selected season ticket and after purchase, we will email you to confirm the name you would like the season ticket under and the delivery address.
💕 How does the guest ticket work? The guest ticket is an unnamed ticket that you can use to bring any friend or family member along with you when you visit. It offers fantastic flexibility and is perfect for treating a grandparent or a child's friend to a day out at Pennywell. The Group Saver guest can accompany any of the named adult or child ticket holders. It is also perfect if a little one is turning 3 at some point in the year, you can use it for them instead of paying for each visit! The guest ticket is included in each of the Group Saver packages.
🧍 Can another person use my Season Ticket? No, Season Tickets are only valid for the named person and are not interchangeable. However, all group saver packages include an unnamed Guest ticket that can be used for a different person every time you visit! Please note that guest ticket users must be accompanied by someone using their named season ticket.
🧒 From what age do children require a season ticket? As soon as a child turns 3 years old they are required to have either a Season Ticket, or purchase a day ticket to visit the farm.
💰 Do you do discounts on Season Tickets? No, our Season Tickets already offer a huge discount on admission to the farm, and so we never offer discounts on Season Tickets.
📅 When will my Season Ticket expire? All 2024 Season Tickets will expire on the 3rd November 2024. Silver Group Saver Season Tickets will expire before this on 25th October 2024 due to them not being valid during the October half-term.
💻 Do season ticket holders have to book? Yes, to ensure we can offer the best possible experience for our visitors, all visitors will still need to tickets online and in advance in 2024.
💻 Is there a booking fee? No, there's no booking fee for Season Ticket Holders.
Have any more questions? Email us at [email protected] and we'll be sure to come back to you.