February Half Term Fun at Pennywell Farm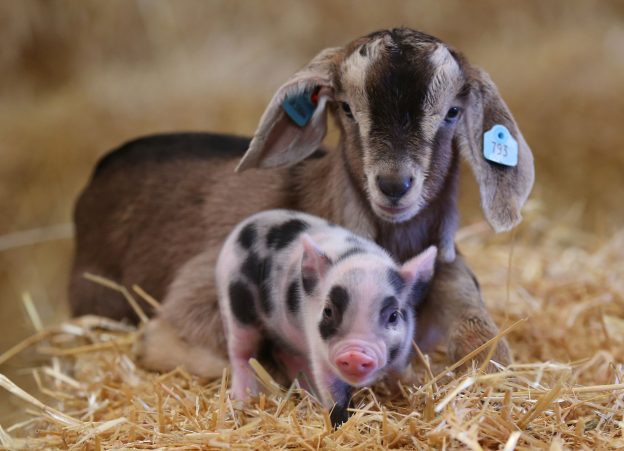 February Half Term is always one of the highlights of our Season here at Pennywell. Re-opening after the winter and welcoming visitors back to our Award-Winning Farm brings a huge feeling of joy to both our team and all of our friendly animals!
We love sharing with you the new and improved attractions we have been working on over the winter, and the happiness in our animal's eyes to see their favourite Pennywell Farmers return is wonderful to see.
The Signs Of Spring!
One of the best things about February Half Term is the feeling of Spring in the air and the new life that it brings. We have already welcomed some adorable new Piglets and Guinea Pigs who can't wait to meet you!

Guinea Pig Mummies Janice and Lulu along with Dad Badger have had the sweetest of pups and all of them are doing really well. Our Guinea Pig Nursery is one of the cutest spots on the farm!
Ella, one of our Pennywell Miniature Pig breeding sows has given birth to the first litter of 2023! This Mummy Pig and her beautiful piglets are all doing well and are unbelievably cute and smiley!

We have a few Nanny Goats due very soon and can't wait to welcome their kids to the world. Goat Kids are so full of life, bring so much joy to the farm and definitely give that Spring feeling!

When the daffodils bloom we know Spring is on its way – they bring the first real splash of colour to the farm after winter, and joy comes with it!
Hibernating animals begin to wake up and sometimes we are lucky enough to see some wild hedgehogs and dormice venturing out around the farm. We can't wait for the Pennywell Tortoises to start to awaken after their winter long sleep – another true sign of Spring!
Early mornings at Pennywell are a peaceful time, only interrupted by a chorus of birdsong. This tune becomes a lot busier as Spring approaches and its music to our ears!
The trees around the farm start to blossom, bringing more and more colour. Our Willow Maze goes wild and the bare winter branches become luscious green with leaves! This makes getting lost in the Willow Maze even more fun and increases the challenge of making it to the middle…
The Pennywell Ponds begin buzzing with wildlife. Our Pond Dipping Activity is filled with exciting discoveries of dragonflies, frogspawn and so much more!
There are so many exciting things coming and we can't wait for the explosions of wildlife that Spring brings!
So much to See and Do!
From cuddling animals in our Pets & Pigs area to jumping on our 4 FREE farm rides brought to you by Tractor Power, there is so much to see and do on a day out at Pennywell Farm.
With a new activity every half an hour you can spend your day bottle feeding our Goat Kids, hand feeding our herd of Red Deer, meeting and finding out all about our African Pygmy Hedgehogs and adult Pennywell Miniature Pigs.
Don't forget to head to our Pond Dipping activity, pamper and groom our Miniature Ponies and cheer on our ferrets and pigs in their races too! You can learn to milk a Nanny Goat and even take one of our cheeky Goat Kids for a walk.

The highlight of your day will be the chance to watch one of our amazing family entertainers in the Big Show! This Half Term we are joined by Elfic the Jester, Mr Phil and Dan the Hat, all bringing you the perfect balance of tricks, comedy and the Pennywell WOW factor.
While exploring the farm, not only will you meet a huge variety of friendly animals, but you will also discover play areas, obstacle courses and more!
The Pennywell assault course brings a challenge for everyone, (fun-loving adults included!), our Crazy Golf course is great fun for all the family and the range of sand pits, ride-on tractors and trampolines dotted around the farm lead to an infinite amount of fun to be had.
Learn through play in our newly renovated Toddler Village, unleash your inner Pennywell Farmer in our Tractor Village and dare yourself to head down the famous Thunder Slide!
With so much to do, planning your day at our Activity Board is a great way to make the most of everything. During your visit, listen out for the bell every half hour to remind you of the next activity. Start your experience now by taking a look below!
Tickets for February Half Term are available now and selling fast. Remember, we limit the spaces available for each day in order to ensure everyone has the best possible experience, so book now to avoid disappointment!
This story appeared on February 7, 2023