A Year at Pennywell Farm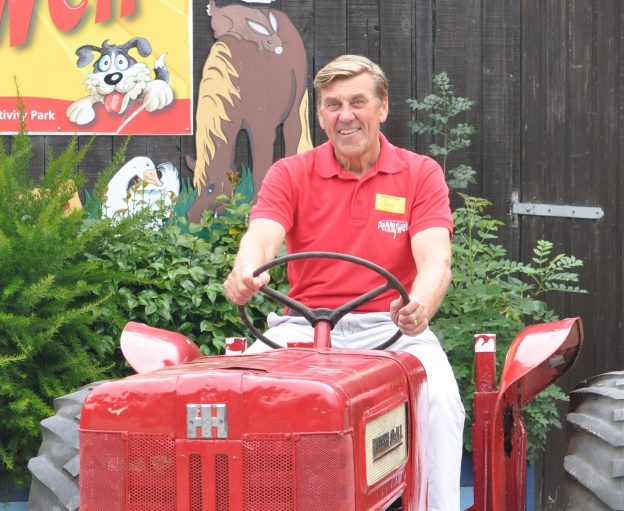 A year at Pennywell goes by very quickly and 2019 was no exception. Always busy, full of fun and full of animals!
As we look forward to 2020, here are just a few of our highlights from the last 12 months.
January
The farm was closed for the winter break but there was still plenty going on. Angus Murray was busy with his winter project, transforming Noah's Barn.
A complete redesign of the inside with 3 new bouncy castles and a lovely indoor picnic area. Nobody here ever doubted that it would be ready in time for February Half Term!!
February
Two days before half term, Pennywell hosted the annual Springboard for Tourism event on Valentines Day. Tourism businesses from all over Devon were represented and it was a great chance for tourism businesses to work together.
There was a new arrival in the Murray family in February. Cecilia Murray arrived on 27 February to proud dad Angus and his wife Davina. Angus was just 3 days old when his parents first opened the farm to the public so Pennywell has been a part of his entire life.
March
March saw the launch of a great online competition. Working alongside other Gold Award winning businesses in Devon, we were able to offer a chance to win one of 3 short breaks in South Devon – Romantic Riviera, Sparkling Blue Waters and Luxury Family Fun.
We also had a celebrity visitor in March. Jo McElderry popped in to see us when he was performing at the Theatre Royal and like so many others, fell in love with our pigs. 
April
Pennywell had some worldwide publicity with the launch of Piggy Pilates! A Pilates class with the addition of Pennywell miniature pigs seemed to capture peoples imaginations. It featured in the local and national press and on local and national BBC programmes. Lonely Planet ran an article about it and it featured as one of the top things to do in the UK in the Flybe in-flight magazine.
It was hugely popular and great fun for all involved. One lady participant actually told us that she enjoyed it more than her wedding day!
May
Happy Birthday Pennywell! The Murray family celebrated 30 years of Pennywell Farm with family friends and Pennywell team members past and present.
To put it into context, Pennywell opened in the same year that the Berlin Wall came down, Britain first went on the World Wide Web and Shirley Valentine was topping the box office.
Pennywell began as a bare field site with no buildings, grass, hedges or mains power. All the owners Chris and Nicky Murray had was a dream and the determination to never look back at their lives and say, "If only".
It was the first farm attraction in the country to introduce a real hands on experience with animals and the first to introduce half hourly activities, a formula that has been repeated all over Britain.
June
We celebrated Devon Day in style by hosting a special Devon Mascot Day. Mascots from tourism businesses all over Devon came to Pennywell to enjoy the day, promote our glorious county and enjoy a real Devon Cream Tea.
The day was hosted by Pennywell's mascot, Pippa Pig (beware of imitations!)
July
With Brexit and the recent election, it's easy to forget that in July, it was the race to No 10 making the news with a Tory Party leadership contest.
We played our part Pennywell style with a special pig race between Boaris Johnson and Jeremy Grunt to decide the outcome – the rest is history!
August
The Pennywell team were not just busy keeping lots of summer visitors happy in August. The farm experienced something of a baby boom with two litters of Pennywell miniature piglets born in a week. All eleven piglets were fine and delighted visitors throughout the summer holidays.
Ben Hayden joined the team as Pennywell's Operations Manager in August. Ben is married to Chris and Nicky Murray's daughter Hetty so is keeping Pennywell very much in the family.
September
Two very exciting new additions to the farm arrived in September. The first were heavy horses, Duke and Duchess who have settled in really well and have a strong presence in the Farmyard. It feels as though they've always been here.
September was also our first ever was Piggies and Prosecco experience – an evening of well. Piggies and Prosecco. The event sold out and what had been planned as a one off evening has already sold out several dates for 2020!
October
Gruffts 2019 was a real highlight and a great way to finish the 2019 season. Designed to replace anything connected with Halloween, this event was new in 2018 has been a great hit with the visitors.
Hailed as 'The World's Greatest Goat Show' this spoof event was sponsored by Goat-Compare (obviously) and has made Pennywell a finalist in the National Farm Attractions Network Awards for innovation.
November
Huge celebrations as Pennywell received the Gold Award for Large Visitor Attraction of the Year 2019 at the Devon Tourism Awards.  It's always a nerve wracking evening and this year Pennywell was up against some serious competition.
Ben and Angus collected the award on the night which is a huge accolade for Pennywell.
December
As ever, the Pennywell Nativity Plays take centre stage throughout December. We were very honoured this year that BBC songs of Praise filmed one of our Nativity Plays and presented a whole programme from the farm. It was a great way to celebrate a great year and to spread some great news!
We would like to take this opportunity to say a huge thank you to everyone that has visited in 2019.
We wish you all a very Happy and Holy Christmas.
This story appeared on December 20, 2019