Pennywell Miniature Pigs as Pets
Britain's Original and Trusted Breeder Since 1992
Our Background
The Pennywell Miniature Pigs are an essential part of Pennywell Farm, our award-winning tourist attraction in Devon which sees over 100k visitors every year.
Farmer Chris has always loved his pigs but found it expensive to keep traditional pig breeds on the farm. By breeding to reverse all that commercial farmers do to get rapid live weight gain, high food conversion ratio and high birth rates, The Pennywell Miniature Pig was born.
Pennywell's priority has always been to breed for good temperament, as we are open to the public and need safe, friendly pigs for children and adults to cuddle.
Piggy cuddles were an immediate hit with visitors and it quickly became apparent that they would make excellent pets.
Pigs as Pets
- They are suitable for people with fur and feather allergies
- They require less exercise than a dog
- They are social, intelligent and unique
All our pigs are well cared for and socialised. They are handled from a young age by our team and visitors but stay with the sow until they are ready to be weaned.
With over 20 years of experience, we pride ourselves on being the original 'micro' pig breeder and are among the most responsible, trusted and transparent breeders of miniature pigs in the UK.
Prices
- One Pennywell Miniature Pig £650
- Two Pennywell Miniature Pigs £1300 £900 (Save £400)
A non-refundable 50% deposit is required to secure your place on the pig waiting list.
All boars are sold as castrates and the price is the same regardless of colour/markings. As pigs are highly social animals we would always encourage buying two unless you already keep other animals.
A 6 step Buying process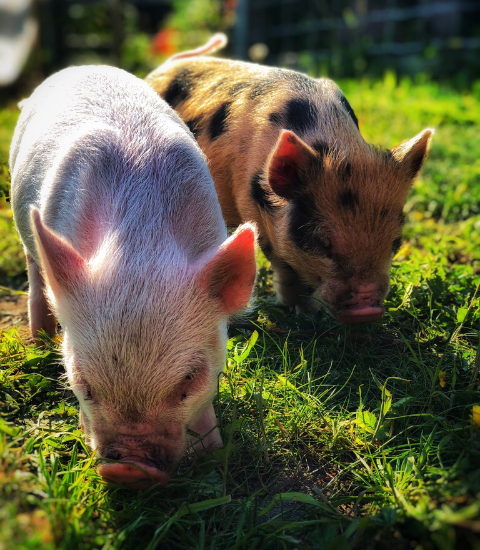 1. Before you buy please read our Keeping Pigs as Pets Guide and consider carefully whether a Pennywell Miniature Pig is the right pet for you.
2. It's important you meet our pigs and get an understanding of the size a fully grown adult miniature pig is. We encourage you to visit Pennywell Farm, our award-winning Devon tourist attraction. Keep hold of your receipt and we will refund your admission (maximum of 2 Adults. Does not apply to Christmas tickets) when you buy from us. Book tickets. For those that are very interested in purchasing Pennywell pigs during the winter months when the farm is closed, you can book a "viewing & Q&A session by Clicking Here.
3. Apply for a free County Parish Holding (CPH) number so you can keep a pig. It's best to leave plenty of time for this to be processed.
4. Complete the Pennywell pig owners application form at the bottom of this page. If your application is accepted a member of our friendly team will be in touch to take a 50% deposit (all deposits are non-refundable) which secures a place on our pig waiting list.
5. There are lot's of costs involved in breeding miniature pigs and we receieve lot's of interest. As soon as your deposit is paid we can then start the process with you.
6. When you collect your pigs, we will provide you with a receipt, DEFRA/APHA paperwork, a small amount of feed, ear tags and a 'Pennywell Care Guide'. You will need to bring a large pet carrier no smaller than 60 x 60 x 90cm to transport 2 young piglets along with a nice cosy/fluffy bed inside to snuggle down for the journey.
Legal requirements for pig keepers
Although a Pennywell Miniature Pig will be a much-loved pet, in the eyes of the law, pigs are farmed animals and all are subject to livestock regulations.
- You will need a County Parish Holding (CPH) number before collecting and transporting your pig. Please apply for your CPH number as soon as possible to allow for processing time as they vary.
- Once your new pet home is you will need to register as a pig keeper with the Animal and Plant Health Agency (APHA), this must be done within 30 days of your pig arriving home.
Both processes are free and easy. All the guidance and details you will need can be found via the above links.
Further information with regards to your duties as a pig owner can be found in this In-Depth Guide To Keeping Pigs.
Still interested in buying a Pennywell Pig? Complete the application form below.
If you think that a Pennywell Miniature Pig might be your perfect pet, please complete the "pig owners application form" below.
If your application is approved then we will be in touch to take a 50% deposit which secures a place on our pig waiting list (deposits are non-refundable).
Further questions
If you require any additional information send us an email with your contact details and a member of the team will get back to you as soon as possible.
Email: [email protected]