Noah's Barn Private Evening Hire
Noah's Barn is the perfect venue to hold an unforgettable party.
It provides a laid back, and fun party venue complete with three impressive bouncy castles for those aged 1-12 years to enjoy. Accompanied by a stylish and atmospheric seating space, Noah's Barn provides the perfect venue to host a children's or adults birthday party, giving a great opportunity to catch up with friends whilst keeping the children entertained. There is also Crazy Golf for young and old to enjoy at no extra charge.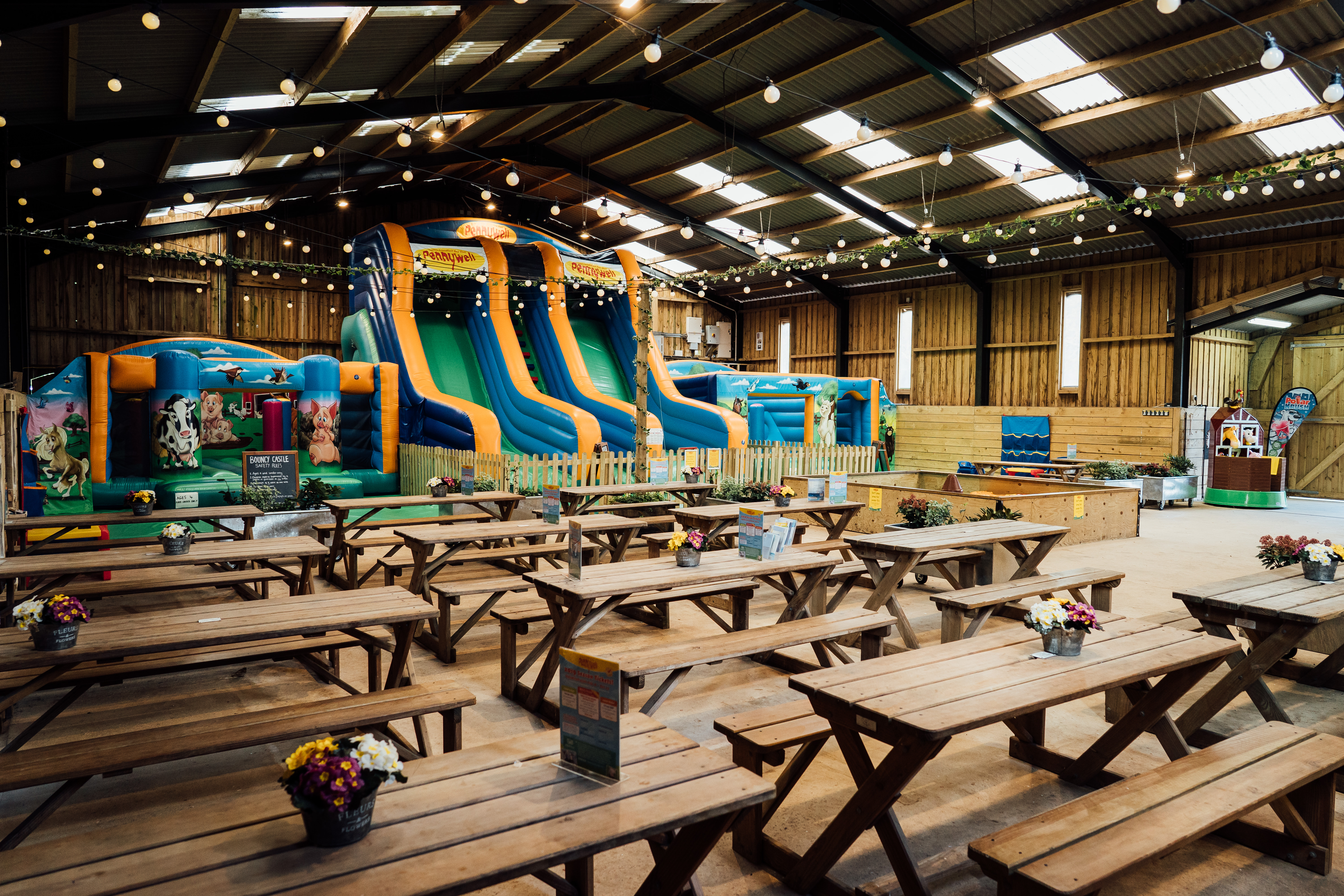 There is a takeaway which will be open where hot and cold (non-alcoholic drinks) drinks & basic snacks can be purchased.
You are welcome to bring your own food and decorations for the barn should you wish. The site has plenty of parking with very good access to the barn which makes setting up a doddle.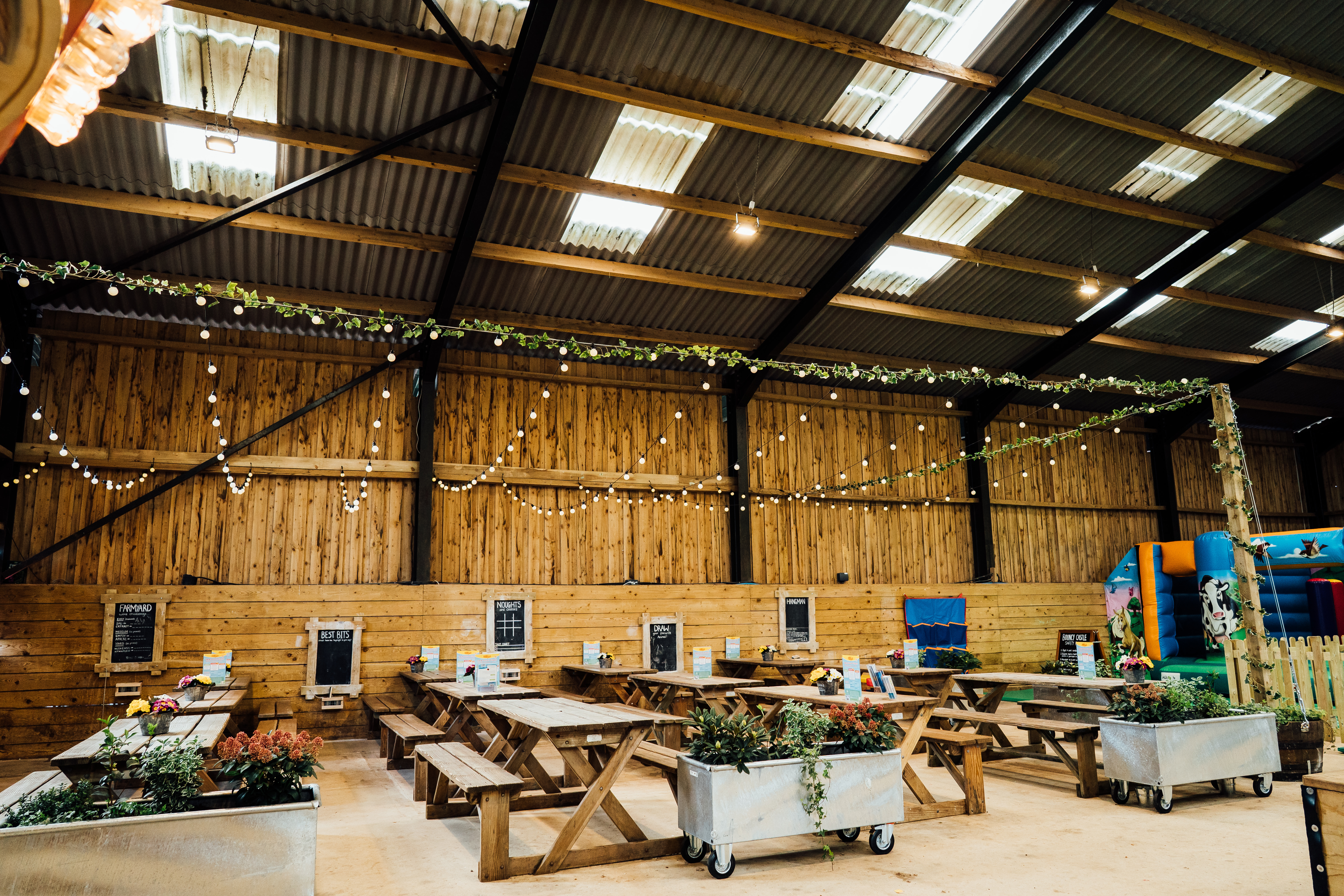 The barn offers exclusive and unlimited fun from 6pm until 8pm. You cannot enter the barn before that time to prepare for the party. Some hosts like to state to guests that the party starts at 6:15pm to allow them time to set up anything which is required beforehand.
There will be a member of our friendly team on duty to serve from the takeaway and also administer first aid should it be required.
Timings & Numbers
Private hire is from 6pm-8pm (Car park will be locked at 8:30pm).
Numbers for the whole party are limited to 90.
For safety numbers across the three bouncers are limited to 20 at any one time.
Prices
*Special introductory rates*
Full payment including deposit is to be paid on booking.
Mon/Tues/Wed - £200
Thurs/Sun- £225
Fri/Sat - £250
A refundable deposit of £50 will be returned if the barn is left tidy and all guests leave on time at 8pm.
For all bookings:
Call 01364 642023
Terms of Hire Agreement
1. Your booking is 6pm – 8pm. You will not be able to access the Play barn before 6pm. We will meet you upon arrival. Any problems please call us on 01364 642023
2. There will be a Pennywell Farm Team member present but it is your responsibility to supervise your guests and children on the bouncers (Pennywell Farm Team are there for first aid and fire only) and limit the numbers on each to meet the rules. If you have an incident please inform the Pennywell Team member immediately. The hirer takes all responsibility for the safety of children and adults attending the party.
3. Feel free to bring your own cold buffet food and refreshments. We ask for all these to be consumed at the tables provided, not on the play equipment as it causes damage.
4. Feel free to bring your own sound system for music and plug sockets are available.
5. There are three bouncy castles with the following ages restrictions:
a. Bouncer 1 (flatbed bouncer with obstacles) under 4's
b. Bouncer 2 (large slide) 5-12 years
c. Bouncer 3 (small slide and flatbed bouncer with obstacles) 5-12 years.
6. Your booking is for Noah's Barn and the crazy golf surrounding it only. You are not permitted to use any other areas of the park other than the Toilets.
7. You can purchase refreshments from our takeaway inside the barn until 7.30pm.
8. The Hire finishes at 8pm. We ask that all the guests are out of the building by 8.10pm.
9. The car park gates get locked at 8.30pm. All vehicles must be removed from site by this time.
10. No food or refreshments on the bouncy castles.
The Party Host will be required to sign a waiver when they arrive to this effect on arrival.
Your deposit for hire will be returned to you within 7 days of your hire taking place and will only be returned if the above rules and conditions are adhered to.