Christmas Nativity Plays at Pennywell!
It's beginning to look a lot like Christmas at Pennywell, our Devon Tourist Attraction.
The Nativity Scene is set in the barn with all the Pennywell animals looking on, warm and dry in their winter home. Leave the high street behind and journey back with us to the very first Christmas with the arrival of baby Jesus at the heart.
Picture the scene, a magical setting with all the Pennywell animals, the barn twinkling with hundreds of tiny lights in the many fir trees and carols ringing out across the farm.
We have the costumes so that the children can become the star performers, providing a host of heavenly angels, shepherds watching their sheep, wise men travelling, innkeepers and of course, Mary and Joseph.
The festive journey continues after the performance as every child is greeted personally by Santa to receive their special gift.
A warm and festive welcome then awaits in Henny Penny's Cafe where there are refreshments for all. Warm mince pies, mulled wine, tea and coffee are waiting for the adults, while the children are treated to homemade Christmas biscuits and juice.
Meet our friendly farmyard animals, relax and soak up the indescribable atmosphere that only Christmas can bring. It really is the perfect start to your celebrations.
You need to allow at least two hours for your visit and be ready for your performance 15 minutes before it starts.
Don't forget your camera!
The farm is only open for pre-booked Nativity Plays. Christmas at Pennywell is ticket only but the good news is Booking online is easy.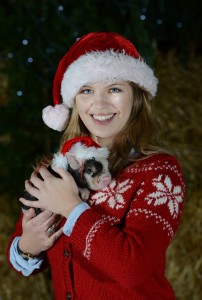 This story appeared on November 30, 2016