Book your tickets at the bottom of this page!
To help keep you safe we have limited the number of tickets on sale each day and split them into morning and afternoon time slots to spread visitors throughout the day.
ALL visitors, including season ticket holders, will need to book their tickets online in advance.
In preparation for re-opening, we have reviewed how we operate every single part of the farm to ensure you can visit safely. As you'd expect, a visit to Pennywell will feel a little different but everything we are introducing is with your safety and our team's safety, as our top priority.
Safety
Below is a summary of what we are doing to keep you safe but you can READ FULL DETAILS on the new safety measure in place HERE.
Importantly, in line with Public Health England guidelines, we politely request that you do not visit Pennywell Farm if you are displaying any symptoms associated with Covid-19.
-Online ticket booking only - You can now ONLY book online to help us manage visitor numbers on site, this includes season ticket holders.
-Morning and afternoon sessions - We have split tickets into morning and afternoon time slots to spread visitors throughout the day and keep you safe. You can either book a morning (9am-1pm) or afternoon (2pm-6pm) session on the farm. Morning and afternoon sessions have been designed to enable our lovely visitors to have the safest possible experience, there is absolutely no financial benefit to the farm.
-Temperature checks on arrival - Non-invasive infrared temperature checks will be a condition of entry to Pennywell Farm. Any person (and their group/household) will be denied access if displaying a temperature of 38C or above.
-Cashless on site - We will not be accepting any cash payments on site.
-Social distancing markings across the farm - Pay attention to the new signs and floor markings which have important safety messages and instructions.
-Hygiene Screens - New Hygiene screens have been installed to help keep a safe distance between visitors and our team.
-Enhanced cleaning procedures - Our robust cleaning procedures have been enhanced to focus on high traffic areas and touch points.
-Hand sanitiser stations - We already have 46 places to wash your hands on the farm, most of which are on sensor so you don't even have to touch the tap! We have also installed sanitiser stations and you will be asked to use them before going on any rides or using outdoor play equipment
-Personal Protective Equipment - You may see some of the Pennywell team in Personal Protective Equipment for some of their tasks. This includes face masks, gloves and eye and face protection. Please feel free to bring your own if you'd like too!
What to expect
As you'd expect, a visit to Pennywell will feel a little different but everything we are introducing is with your safety and our team's safety, as our top priority.
Whether you choose a morning or afternoon session to visit, you will experience the same Pennywell award-winning fun!
What is available – You'll experience a Pennywell welcome in the farmyard and the train, tractor ride and red rocket will all be running during your session (you will ride with members of your household/group). Activities will include ferret racing, deer feeding and our infamous miniature pig race! You'll be able to explore the whole farm and see all of your favourite animals. From the mighty heavy horses, Duke and Duchess, to our world-famous miniature pigs, they can't wait to welcome you again! Our brand-new miniature pony and donkey paddocks will also be open, complete with a spectacular picnic and viewing area overlooking Dartmoor. With limited numbers on-site, there will be plenty of space for everyone!
What isn't available for now - Bouncy castles, Piggy cuddles, Pets corner, Go-carts, Henny Penny's Cafe (snack and drinks are available from takeaway outlets) and a number of activities will not be running to keep both our visitors and team safe by avoiding people gathering in groups in one area.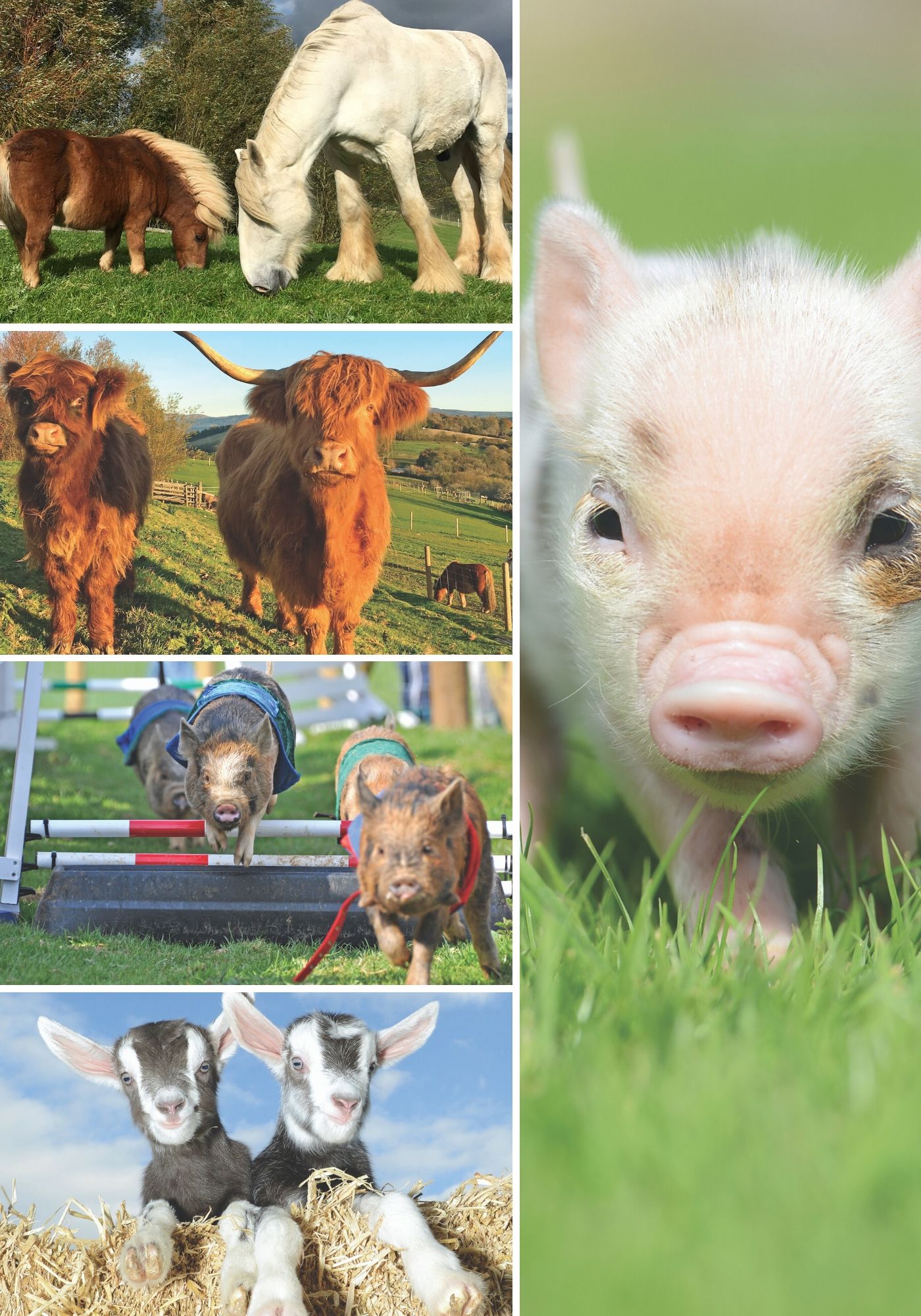 What do our visitors say
⭐⭐⭐⭐⭐
AMAZING day out, cannot recommend enough! All the animals are so friendly and of course, the staff are lovely. The pig racing was hilarious, Natalie Porkman was a personal fave.
Lucy - Visitor
⭐⭐⭐⭐⭐
I'm not sure who enjoyed it more, my daughter for her 1st birthday or me and her dad 😂 awesome day out, friendly, informative staff, animals look well looked after and enclosures clean, will definitely be returning!
Kayleigh - Visitor
⭐⭐⭐⭐⭐
Went here today amazing place and staff special thanks to Heidi on making my son feel so welcomed. would defiantly recommend to anyone to visit.
Lee - Visitor
Don't let the weather dampen your enthusiasm!
Wet weather? Book with confidence no matter what the forecast. If it rains for more than 30 minutes during your visit then we will give you a ticket to come back and visit us for FREE.
Important ticket information
-Day tickets - All visitors to the farm MUST book either a morning or an afternoon session in advance of your visit. Make your selection from the options below and remember you must book for children under 3 too!
-Season tickets - If you are a season ticket holder, you MUST book tickets below (remember you must add children under 3 too).To book these tickets, you must have a valid season ticket card and this will be required on admission. If you arrive without a valid season ticket, you will politely be refused entry. We will be adding the time missed due to forced closure to your season ticket. You will get 105 days added from February half term 2021 when we reopen for the season.
-Wet weather returns - If you have a wet weather return, you MUST book tickets below and use your unique code to redeem the cost on the next page. If you arrive without a valid wet weather return voucher and corresponding ID, you will politely be refused entry.
-Complimentary tickets - To ensure that we can open safely, we will be limiting our daily capacity. In light of this, we're very sorry to say that we cannot accept any complimentary tickets at this time. This includes 50% off for members at our partner attractions.